If you are an adventurous person and like traveling, you'll for sure enjoy a road trip through some beautiful or exciting places.
It's a great opportunity to find new friends, visit new places and learn a bunch of interesting facts.
Of course, there are lots of great destinations for a road trip around the world but we've prepared a list of the 10 best options for you.
There are variants for any taste and preference!
The Ring Road, Iceland
Just imagine taking a trip around the whole country!
If you like the idea, you should consider the Ring Road in Iceland.
This route stretches all over the country and offers you a bunch of amazing views.
The nature of Iceland is really impressive and magnificent so don't lose your chance to enjoy local landscapes with glaciers, waterfalls, volcanoes, mountains, and valleys.
If you need to rent a car, there are lots of options in Reykjavik.
Just keep in mind that renting a car you'll be obliged to make all the repairs if they are required.
If you want to avoid possible difficulties, address MoneyMaxim that offer Car Hire Excess Insurance which covers all repair of a rental car.
Duration: The road is 828 miles long which means that you need about a week to complete it.
Most travelers start their journey at the capital city and move to the south making a circle.
Highlights: The most incredible spots you should stop by are the Jokusarlon glacial lagoon, the Skogafoss, and Hverageroi.
Tips: Keep in mind that the road condition varies depending on the season.
The best option to go for a trip there in simmer while from November to March the trip can be really challenging.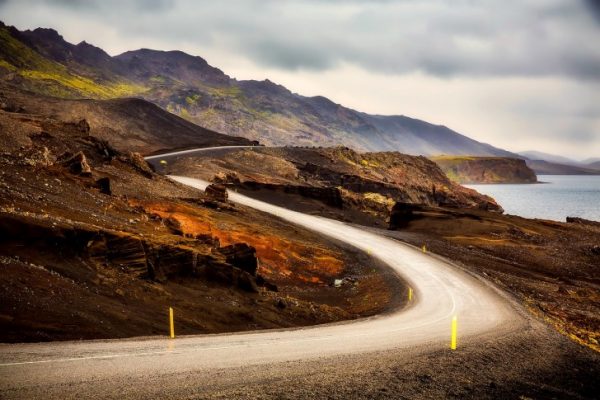 Hana Highway, Hawaii
If you want to have a short road trip, consider going to the Hana Highway.
You'll be fascinated by the local landscape and gorgeous views.
The road goes through the beautiful bamboo forest with stunning waterfalls so you can take a bunch of amazing photos.
Just keep in mind that there are lots of twists and turns on this road.
Distance: The road goes from Paia to Hana and you need about three hours to complete it.
Highlights: The Haleakala National Park is a spot you shouldn't miss during your trip.
There you can enjoy beautiful sacred pools and gorgeous forest.
Route 66, USA
Route 66 – it's a legendary road that goes through the whole country and there aren't many people who were able to complete it.
Most travelers just complete a small part of this challenging path which connects 8 states.
Duration: The whole road covers 2 500 miles and goes from Chicago to Los Angels.
If you want to complete the whole road, you need at least two weeks.
Highlights: Going by Route 66, you'll be impressed by beautiful red rocks in Sedona, Arizona, kitsch hotels of Tucumcari, New Mexico and the ghost town of Texola, Oklahoma.
Tips: There is plenty of gas stations all over the route.
Just keep in mind that in some areas especially in Arizona, you need to complete about 100 miles to get to the next station.
The Garden Route, South Africa
The Garden Route goes through the most southerly tip of South Africa coast.
Your trip will start at Cape Town going through beautiful beaches, mountains, and vineyards, and finishing at Port Elizabeth.
Duration: The Garden Route is 500 long so you need about 3-4 days to complete it.
It gives you an opportunity to stop in some exciting places.
Highlights: Speaking of spots you should visit during your trip, there are Addo Elephant National Park, Tsitsikamma, and Cango Caves.
If you have enough time, spend a day at a local vineyard and enjoy some delicious wine.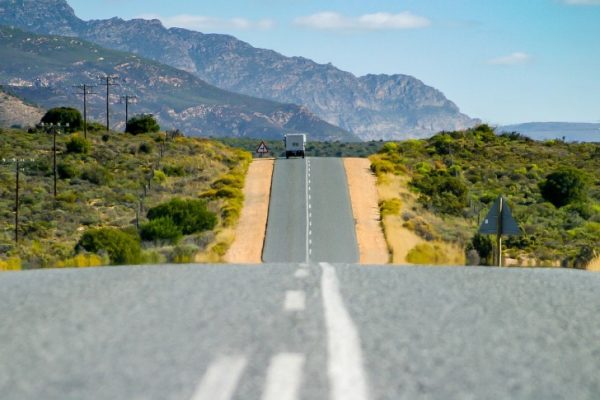 The Alcan Highway, Canada to Alaska
The Alcan Highway is a perfect opportunity to enjoy the incredible nature of North America.
You'll be impressed by stunning forests, rocky mountains, and other spots during your trip through Canada to Alaska.
Duration: Considering the road length which is 1 340 miles, you need 6-8 days to complete it.
Highlights: During your trip, you can see lots of wild animals such as grizzly bears, moose.
Also, you should have a picnic near Muncho Lake and relax at Liard River Hot Springs that are one of the largest in Canada.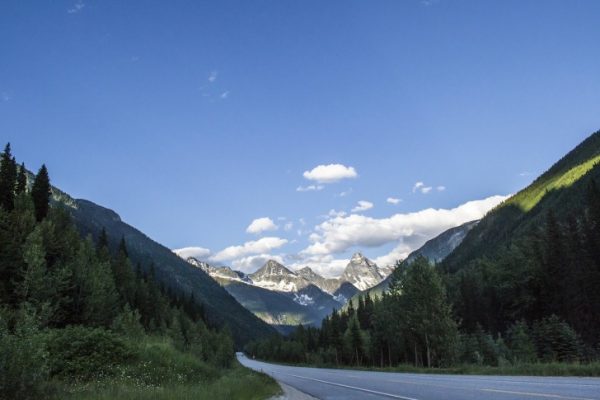 Great Ocean Road, Australia
The Great Ocean Road in Australia is pretty short nevertheless it can offer you a bunch of gorgeous views.
There you can enjoy magnificent rainforests, rocky cliffs, and amazing parks.
Duration: The Great Ocean Road is 157 long and it starts at Torquay and goes to Warrnambool.
One day can be enough for this trip but if you want to spend some time sightseeing it's better to have a slower pace.
Highlights: You'll for sure be impressed by Bells Beach which is the most popular spot among surfers.
Also, visit Twelve Apostle rocks.
Tips: Make sure you keep to the speed limits as there are lots of cameras along the road.
North Coast 500, Scotland
Route North Coast 500 (NC500) – it's your chance to enjoy magnificent views while riding through isolated and rugged spots of Scotland.
It's known as one of the road trip routes in the world.
There you can see Medieval castles, glens, and lochs while riding through the coastline of Scotland.
Duration: The NC500 has a length of 500 miles and it requires 6 days to complete it.
Highlights: Going for this trip, just make sure you've prepared your camera as there are lots of gorgeous places you may want to take photos of.
You must for sure visit Rogie Falls that are 30 minutes away from Inverness.
Also, it's worth it to go to the craggy beach in Cape Wrath.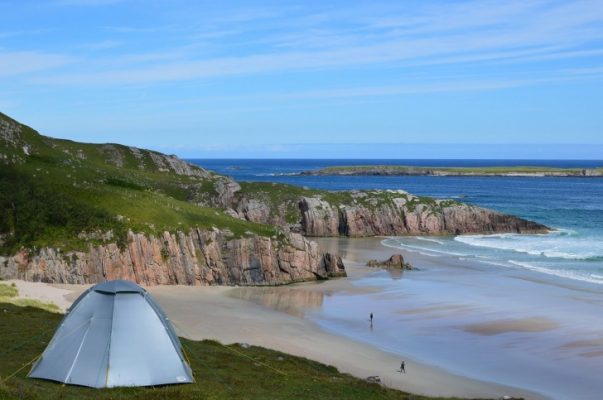 Stelvio Pass, Italy
Stelvio Pass in Italy is considered as one of the best road trips in the world.
You should know that this pass is really challenging due to its crazy bends and steep cliffs.
Nevertheless, you'll be impressed by the amazing local landscape of Italian Alps.
Duration: It is 73 miles so you need a couple of hours to complete it.
Highlights: It's one of the highest mountain roads in whole of Europe.
It means that the views there are absolutely breathtaking.
Also, it's a great idea to make a stop in Stelvio National Park and take a stroll through the forest.
The Pacific Coast Highway, USA
The Pacific Coast Highway is in the list of the most popular and famous routes in the USA.
It connects San Francisco and San Diego and goes through unforgettable picturesque places with rocks and beaches.
Duration: The length of this road is about 500 miles so you can complete it less then in a day if don't plan to stop anywhere.
Considering the number of amazing spots along the road, it's better to take 2-3 days to complete it.
Highlights: You'll fall in love with stunning Big Sur mountains and quiet galleries of San Jose.
Also, it's a great opportunity to relax on Malibu and Venice beaches where you can meet some Hollywood stars.
Tips: If you are looking for the best experience, take the route from north to south.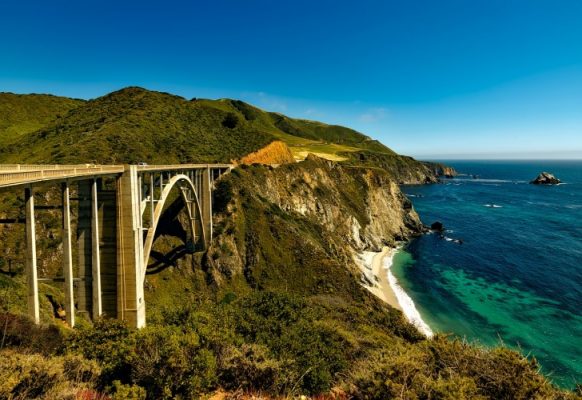 The Atlantic Road, Norway
Looking for absolutely unforgettable landscapes for your road trip?
The Atlantic Road in Norway is a perfect choice for you.
The route is pretty short but still, there are lots of places to enjoy.
Duration: The length of the Atlantic Road is only 2.5 miles.
Nevertheless, there is no need to rush and explore the route, so it's better to have about a day for this trip.
Highlights: Taking your trip through the Atlantic Road, make sure to visit Bremsnes Cave the Bremsneshatten Mountain.
Also, there is always a great opportunity to see some whales swimming by.
And, finally, you for sure need to see a sunset at the Atlantic Road.