Planning a group ski tour might sound easy, but in fact, there are a lot of details you need to consider.
If you are a student and want to start practicing winter sports, then a students' tour is the best choice.
You also will have a cheaper vacation as you travel in a group, but also have your friends by your side.
Even though many people think that you only need to choose the location, book the rooms, and travel there, a group ski tour might get more complicated than you think.
There are many things to consider when you start planning the ski holiday, so for good group harmony, make sure you consider them.
The Budget and the Holiday Period
Going on a ski holiday with your colleagues and friends can turn out to be a pretty relaxing experience.
It is usually the case of a ski tour to last more than two days.
This is because ski resorts are in secluded places and you need to travel a few hours until you reach them.
Practicing winter sports such as skiing or snowboarding is so relaxing and comforting that many people want to spend more than two days on the slopes.
Spending more nights in a ski resort can make the costs go up and some group members might not have the funds to sustain this trip.
This is why it's important to discuss the budget and agree on a period before you start planning.
This will prevent future misunderstandings and will allow everyone that participates to plan their spending accordingly.
Students often need to make compromises, so going on a ski holiday might delay the work of some of them on their tasks.
It may be the case that some students need help with writing their essays, so getting it will be a priority after the holiday.
Some prefer Edubirdie writing service, which has a large team of exceptional writers ready to support students in achieving their academic goals.
Winter Sports Practice and Level of Experience
If you have decided upon the budget and the holiday period, the next step is to start looking for a ski resort.
When choosing it, it is important to know the level of experience of all group participants.
While some might have practiced winter sports before, others might be at their first experience.
It is therefore important to choose a ski resort that has slopes appropriate for all experience levels.
Especially if there are beginners, you might want to make sure that there are ski slopes that are not steep and allow beginners to learn how to practice them.
At the same time, those who are more experienced will want a wide diversity of slopes to explore, so a bigger ski resort would be right for them.
Other Activities
While a ski or snowboard experience on the slope can be entertaining and funny for some members, others might want to just try different things.
This means that while some members will be skiing all day, others might want to explore the surroundings, ski bike, or just relax in the cozy cabin.
A skiing trip for students is a nice experience that will make you a fan of winter sports and group trips for life.
Even though you may not have finished your academic assignments yet, you can choose an essay writer among a lot of offers, and you will surely find the right one for you.
So that they will help you accomplish your tasks and have fun in your first group ski tour.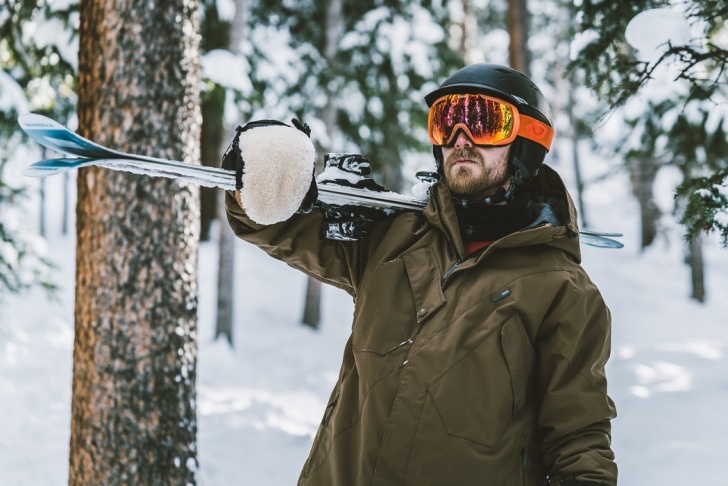 Touring Skis and Equipment
There are many types of skiing and each of them needs different equipment.
The most popular is, of course, alpine skiing.
You have fixed bindings and just go down a slope; in a ski resort you will see that most people practice this type of skiing, also called downhill skiing.
For this, you need to buy or rent ski equipment that contains ski boots, skis, ski bindings, and ski poles.
It is essential to maintain a high level of safety, so make sure you also have a ski helmet, gloves, and ski clothing to not get cold or wet.
But apart from alpine skiing, there is another type of skiing you can practice while you are on a ski group tour.
Ski touring is gaining more momentum and many ski enthusiasts who want to try something new, but not only, are starting to practice it.
The difference between ski touring and alpine or downhill skiing is that the binds are not fixed to the ski.
You do not go uphill by using the ski lift, you do this on your skis.
You also have a special piece of skin to put on your skis when you go uphill to not slide down.
Here, you can choose from touring skis, free tour skis, and race or Skimo skis.
Depending on what you are looking for (speed when descending, stability when you go off the ski slope, weight, and width), you should choose one of these types of touring skis with flexible bindings.
Conclusion
Planning a group ski trip is not an easy task, especially if this is the first trip of this kind you organize.
It is often more difficult to organize a group ski tour because there are more team members involved.
However, through communication, everything can be solved.
This is why it's important to decide upon the budget and the holiday period.
Next, it would be essential to assess the level of experience of all group members and their expectations regarding the trip.
Look for a ski resort that can meet the demands of both experienced and inexperienced winter-sports people.
Decide upon the country, search for the right ski resort, and ask the group to make low deposits to secure their place.
These tips will help you organize a funny and seamless first ski group tour.