Have you ever tried bungee jumping?
It's extreme but inspiring!
This type of high jump was invented in New Zealand.
But immediately gained popularity in the United States.
And now there are high equipped jumping points in every state.
At the moment, there are many sites for bungee jumpers which describes any high places, such as bridges, mountains, and even trees where you can jump.
Bungee jump organizers say that bungee jumping is a group sport.
It takes a minimum of 5 people for any bridge under 200ft.
And 10 people for any bridge over 200ft.
We have chosen for you the most picturesque and extreme of the places.
Choose a day off, the right company, and go try your hand at strength.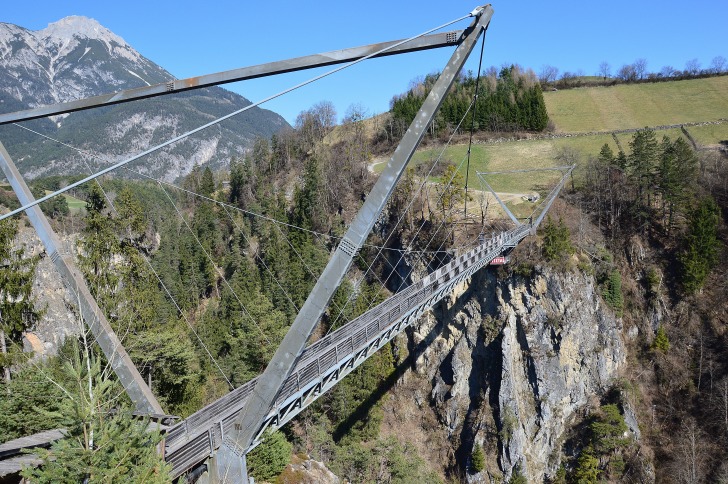 High Steel Bridge, Washington
Do you prefer to jump in picturesque places?
The High Steel Bridge in Washington is one of these amazing places.
This bridge is not the highest.
It's only 385ft (114m).
This is a very small height compared with other bridges.
But the bridge's surroundings are really impressive!
It's in the scenic Skokomish river canyon in the Pacific Northwest, located not far from Seattle and Portland.
Jumping down, you seem to sink to the bottom of a rocky gorge.
And you hit right into the river.
On the right and left, spruces surround you.
Ready to hit the road?
Not so fast!
You can jump from the bridge only in organized groups.
Private groups of 8 or more jumpers can book at this location.
It costs $250 per jumper.
So book a place and go to get a new shot of adrenaline.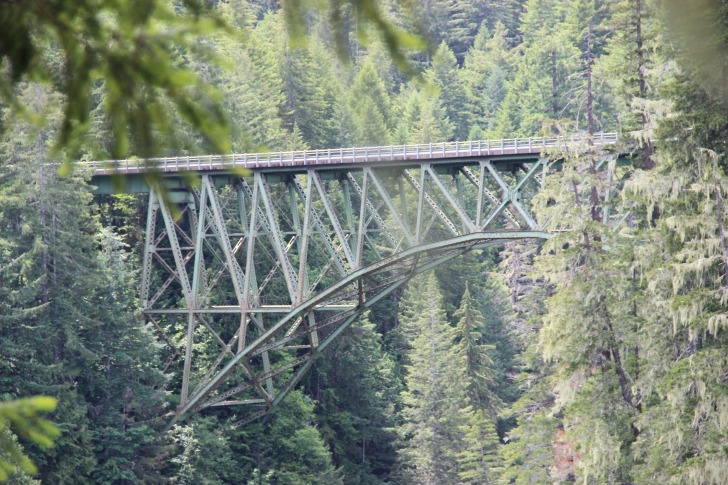 Stratosphere SkyJump, Nevada
Love to stay in the city even for bungee jumping?
Head to the Stratosphere SkyJump in Las Vegas to get 729ft (216m) of Sky Jump.
Currently, the price for one jump is about $100.
Experienced jumpers say that this kind of jumping will suit beginners' day.
So if you're just about to start collecting your jumps around the world, Los Angeles is a great place to start this.
Take a jump from the highest commercial decelerator descent facility recorded in the Guinness Book of Records!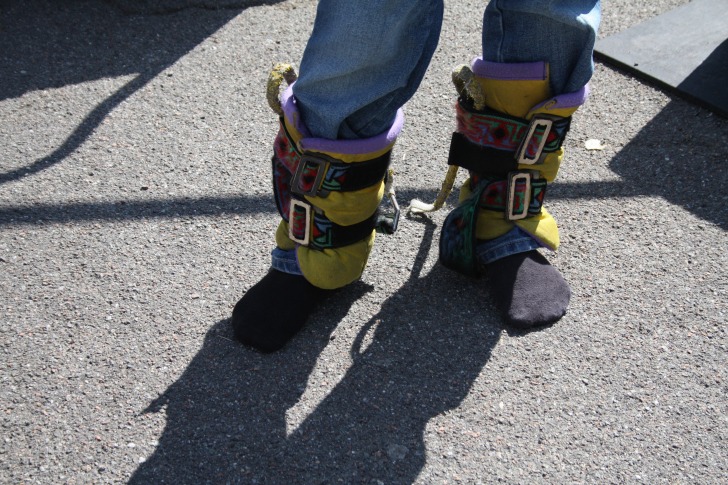 Royal Gorge Suspension Bridge, Colorado
The Royal Gorge Suspension Bridge in southern Colorado is a unique place for jumping to feel free fall as long as possible.
The bridge crosses the gorge 955 feet (291m) above the Arkansas River.
And if you're jumping from the bridge, your free fall will long for about 15 seconds.
If you're an experienced jumper try yourself on the Royal Gorge.
But it's not the only one thing you can do here.
Royal Gorge Bridge and Park offer 360 acres with more than 20 attractions for your enjoyment in addition to the jumping activities.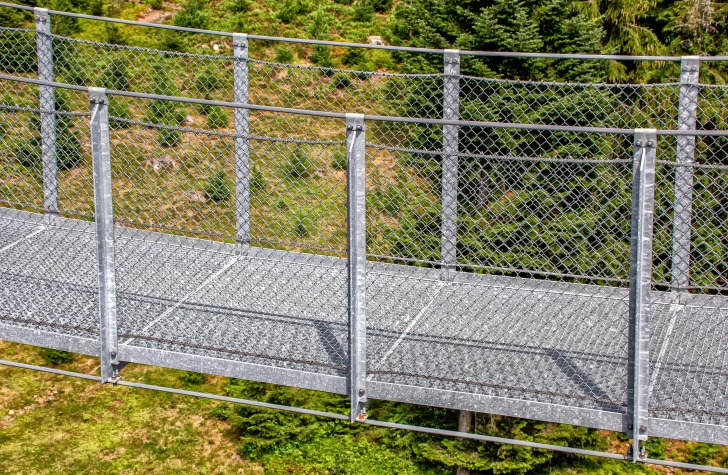 Is the Grand Canyon your favorite place?
Try to go to the Navajo Bridge and enjoy red sandstone cliffs and the Colorado River.
It's 467ft (141.5m) high and definitely not for beginners.
But it's the place you need to see.
The place is interesting thanks not only to the bridge.
Take your time to visit the Marble Canyon.
Take a Canyon tour or the Grand Canyon Rafting.
These activities are really unique.
And after all, return to the bridge with its attractive height.
It costs $250 per jumper and you have to do your reservation in advance.
Enjoy the beauty of Arizona!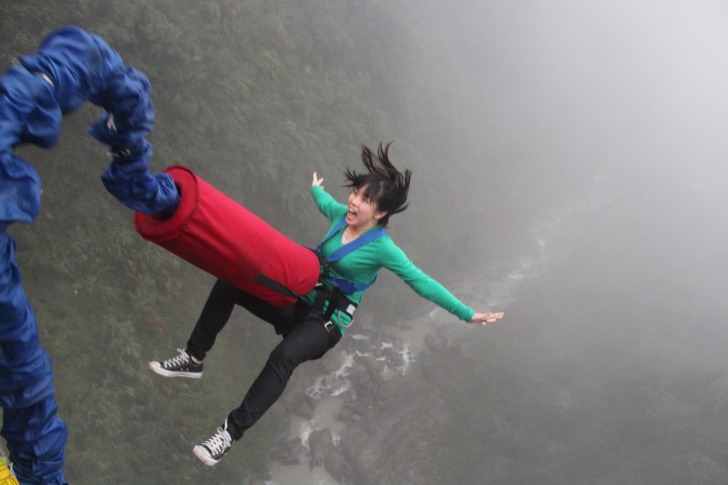 Rio Grande Bridge, New Mexico
Tried all the bridges?
Still looking for something higher?
The Rio Grande Bridge is the highest bridge you ever tried!
That should give you the true adrenaline rush of a bungee jump.
It's 680ft (206m).
It has a breathtaking view of the sidewalks.
Free walk and view, windy, not for those afraid of heights!
To jump, you need to pay $350 per jumper.
And do it only with a group, of course.
Jump organizers say this bridge will take a high level of dedication and responsibility.
Bungee jump from the Rio Grande bridge is only available once a year, currently in the fall.
This is the ultimate bungee jump for the bravest.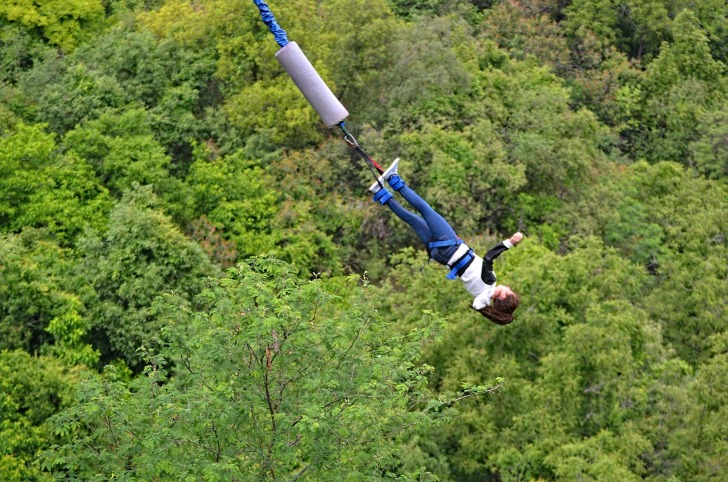 Redwood Trees, California
Collect unique memories?
Then you must see and feel the Redwood Trees!
Jump from the oldest and tallest trees.
Come to the forests of Humboldt, California.
There are three adventures in one.
First, you climb the trees; second, you tight rope walk between two trees (with a hand line for balance); third, you jump out of the trees.
This is a one of a kind adventure but more challenging and higher than the bridge jump.
The cost is $149 for the rope jump.
Here you can look down from the top of the tree and feel the natural impulse inside.