Georgia is known as one of the most beautiful countries in the world.
The country has a magnificent nature and culture with stunning green valleys, ancient churches, and Eastern European traditions.
During its longlasting history, the country was in the hands of Russians and Persian that influenced its cuisine significantly.
Modern Georgian cuisine – it is a mixture of various delicious soups and an incredible variety of tasty meat dishes.
In this article, we've prepared the list of the top 7 Georgian restaurants for any taste all over the country.
Pheasant's Tears, Sighnaghi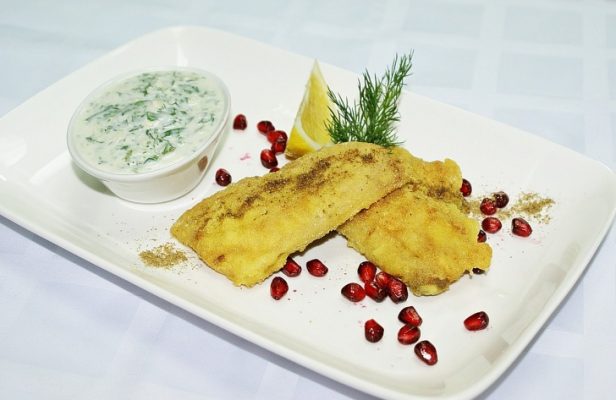 Pheasant's Tears is located in Sighnaghi and offers its visitors a rich variety of local wines and traditional dishes.
Among the offers, there are a chicken, fried eggplant, garlic, and tabbouleh salad, cheese platters, as well as succulent chicken kebabs.
The restaurant is known for its daily specials and fresh local ingredients.
Black Lion, Tbilisi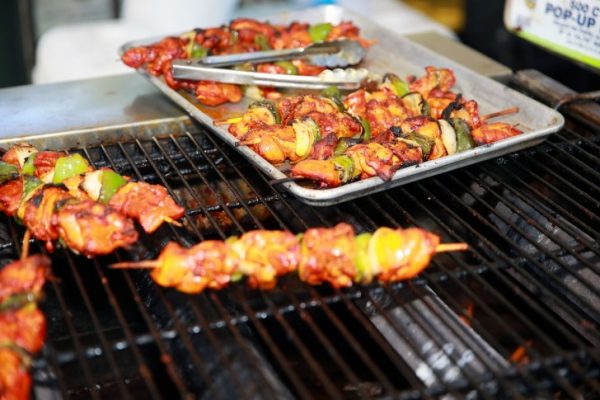 Formerly known as Shavi Lomi, the Black Lion is located in the capital city of Georgia – Tbilisi.
There you can try some traditional dishes with an incredibly modern twist.
During your visit, make sure to try some beef and plum bouillion, khachapuritos that are a kind of chicken or beef quesadillas and phkali which is a beetroot, walnut and spinach paste.
Just make sure to reserve the table as the place is really popular both among tourists and locals.
Old Boulevard, Batumi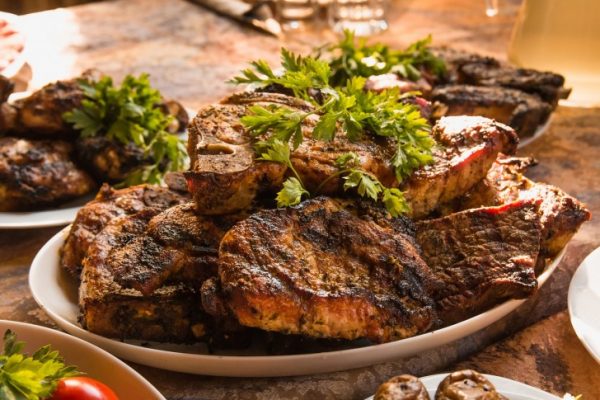 The Old Boulevard is a classy spot with sofas, sculptures and classic music in Batumi.
Among the most popular dishes, there are chicken kebabs and the Turkish inspired hummus.
Also, if you want to enjoy some more Western cuisine, there is a variety of pizza on the menu.
Going there in the evening, you can enjoy a live-performance of talented pianists.
Zakhar Zakharich, Tbilisi
Going to Georgia, one thing you should for sure try is local dumplings that are called khinkalis.
The best place to try this dish is Zakhar Zakharich restaurant in Tbilisi.
The restaurant offers very tasty fluffy dumplings with incredible lamb filling.
Of course, there is a variety of other delicious dishes such as chicken shashlik, hearty soups, and marinated vegetables and walnuts.
Cafe Old Borjomi, Borjomi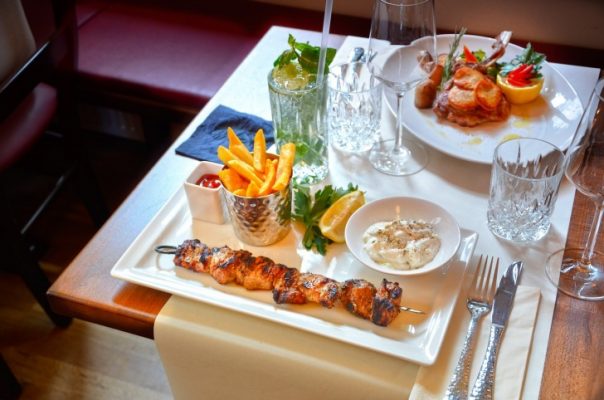 Borjomi – it is a small resort that is located in the valley of the Mtkvari River and surrounded by lavish greenery.
The place is known for its spa but it has something to offer for gourmands as well.
To enjoy traditional Georgian cuisine, make sure to visit Cafe Old Borjomi.
The most popular dish there is trout in a walnut sauce.
8000 Mosavali, Tbilisi
8000 Mosavali is translated as '8000 vintage wines'.
This place is dedicated to local wine production that has 8000 years of history.
As you may guess, there is a wide range of local wines on the menu.
If you want something to accompany your glass of wine, make sure to try charcuterie and cheese boards.
Restaurant Diaroni, Zugdidi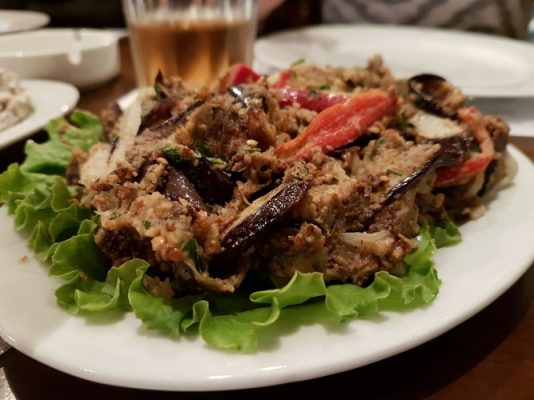 Going to the Svaneti region in Georgia, make sure to visit Restaurant Diaroni that is located in Zugdidi.
It is a perfect place for those who want to try absolutely traditional Georgian dishes.
On the many, you can find such dishes as elarji (cornmeal with stringy cheese), khachapuri (a bread that you dip into its hot cheesy center), kupati (spicy pork sausage) the cottage cheese-like gebzhalia dip, and kharcho (a soup with beef, rice, cherry plum purée and chopped walnuts).