Some of the most outstanding literary figures in the world come from the United Kingdom.
Just think, William Shakespeare, Arthur Conan Doyle, JK Rowling, Charles Dickens, and Jane Austen are all from Britain.
Therefore, this country has been considered one of the top literary destinations for years.
If you are a big fan of reading, you should definitely visit such legendary places as Shakespeare's Globe, William Wordsworth, and cottages of Beatrix Potter.
Although they are not a part of typical tourist traps, these locations are still very attractive for book lovers interested in history.
There are many other great literary destinations in the UK, some of which are listed below, so keep reading!
Platform 9¾
Do you know anybody who has never read the Harry Potter book or watched this movie? I bet you don't.
This masterpiece is widely known and loved all over the world.
Many people come to King's Cross Station in London to see the secret Platform 9 ¾ that leads to Hogwarts Express.
Between platforms 9 and 10, you will find a luggage trolley with a trunk and owl cage that sticks out of the wall.
Just near it, you'll see a store with Harry Potter merchandise, so you can buy a memorable souvenir for yourself or your friends.
Charles Dickens Museum
The Charles Dickens Museum is the house where the writer himself lived for two years, from 1837-39.
It's located in London, more precisely in Doughty Street.
Charles Dickens wrote Oliver Twist and Nicholas Nickleby there, enjoying his upper-class Victorian life.
You can see some original furniture in this four-floor museum and check Dickens' rich library.
If visiting the museum is not enough for you, you can go to Kent where the writer spent a lot of time.
There are many places associated with him, one of which is Broadstairs – a family holiday home.
221B Baker Street
While in London, you should visit another iconic landmark of the city – 221B-Baker-Street.
This is home to the famous fiction detective from Arthur Conan Doyle's book called Sherlock Holmes.
The museum at 221B recreates Sherlock Holmes' rooms and even his laboratory.
Note the house itself is located between 237 and 241 buildings.
You can also find the Sherlock Holmes Public House and Restaurant near it.
The British Library
Another must-visit location in London is the British Library.
This is one of the largest libraries in the world, so all book lovers coming there are astonished by its size.
And note, it is not only big but also very beautiful.
You can find almost anything there, from rare book collections to essay examples on epic poem "Beowulf" since it can boast a huge variety of literary pieces.
The British Library showcases historical manuscripts and documents as well as modern books.
You can grab something that really excites you and read it in one of the quiet library rooms.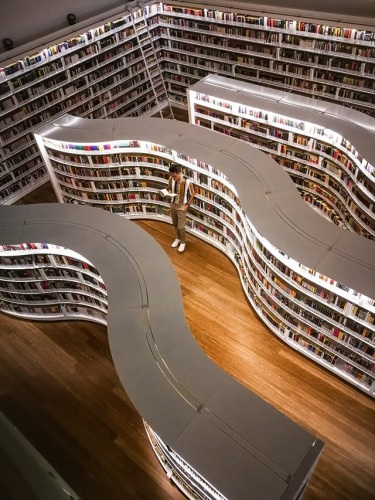 Brontë Parsonage
If you love the works of the Brontë sisters, you should definitely visit the Brontë Parsonage Museum.
This is the former family home that contains a huge library with the fullest collection of Brontë manuscripts and letters in the world.
You can also find early editions of the novels and poems there, which is really amazing.
While planning your trip, you can check a free copy of the Museum Guide on their official website, so you won't miss anything interesting during the visit.
Elephant House
There are a lot of sites in Edinburgh that are associated with J. K. Rowling.
However, none of them is probably as popular as the Elephant House.
This is the cafe where she worked on her first book, so it's considered the "birthplace of Harry Potter".
The author spent days there, writing her masterpiece that gained great popularity all over the world.
Maybe, the Elephant House will also inspire you to create your own manuscript since this is a place where dreams start coming true.
Shakespeare's Globe
The Shakespeare's Globe is a part of any literary tour organized by history enthusiasts.
This is an old Elizabethan theatre built in 1599 where Shakespeare staged his genius plays.
To learn more about it, you can check a free collection of history essay samples that describe that period of time in detail.
You should know that the current building is a precise reconstruction of the original, so you will still feel the spirit of the famous playwright there.
Also, you can find all kinds of exhibits, lectures, and Shakespeare's plays there.
Jane Austen's House
Although most Jane Austen readers associate her with the city of Bath, she didn't really belong to that place.
In fact, the author spent only a few years there, being quite unhappy.
You might know that Jane Austen lived most of her time at Chawton Cottage and wrote her most famous works there.
Such books as Sense and Sensibility, Pride and Prejudice, Emma, and Mansfield Park were created in Hampshire.
Now you can find a museum in her house, which still has the original table and piano used by the legendary writer.
Bloomsbury Garden Squares
Since the beginning of the twentieth century, a lot of great writers, artists, and intellectuals have been meeting in the garden squares of Bloomsbury that are collectively called the Bloomsbury Group.
If you want to get acquainted with interesting creative people in London, add the Bloomsbury Garden Squares to your travel list and take a walk there.
Hopefully, the amazing literary destinations described in this article have inspired you to travel across England.