We are going to tell you everything about Big Sur in California, the US from the backpacker's point of view.
You will know its secret places for camping, as well as cabins and hotels to stay and have a more comfortable rest.
Besides, you will list the top necessary things to put in your backpack.
Backpackers need them so much to feel secure and fully equipped.
We guess you are ready to see the waterfalls, mountains, red trees, and beaches that millions of hipsters, artists, surfers, and digital nomads like you have already explored.
From this guide, decide on the places for camping which sound the most terrific to you.
Let's start your adventure right now.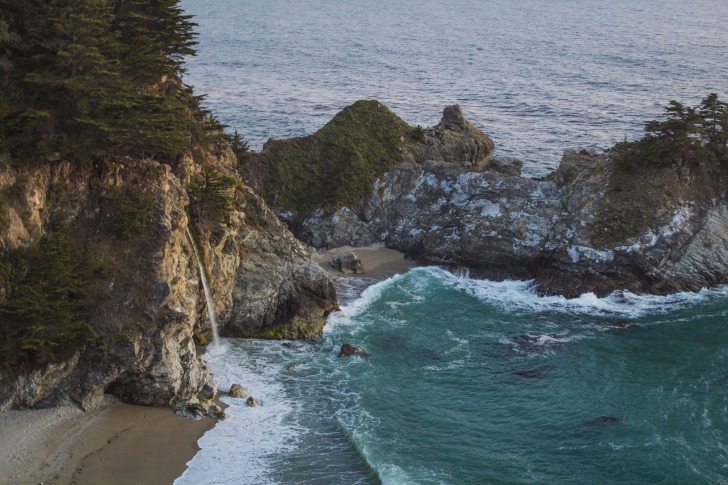 Where Is Big Sur?
Big Sur is in California, between the Santa Lucia Mountains and the Pacific Ocean, but it has no clear boundaries.
The area from San Simeon to the Carmel River can be called Big Sur.
You can get there by car, motorcycle or public transportation on Monterey-Salinas Transit line 22.
Unfortunately, none of the large bus companies or trains go there.
And you will not be able to cross some road sections on a bicycle even if you decide to go by this means of transport.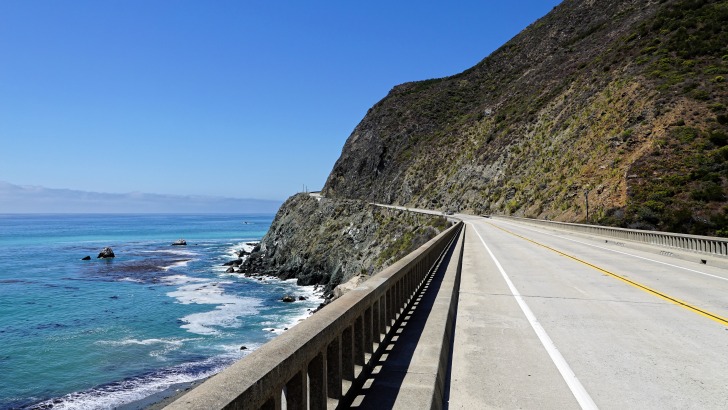 The pin in the middle of mountains that you can find on the maps online, is not actually what we call Big Sur.
You should take California Highway One and drive through all its curls and turns to finally get to Big Sur.
They might seem scary at times, but all in all, you will benefit from the stunning landscapes on your way.
Also, plan everything before you start the journey because Big Sur is not a densely populated place due to landscape and isolation.
Nevertheless, lots of tourists visit Big Sur and its campgrounds, the best of which is part of the Los Padres National Forest or the adjacent Fort Hunter Liggett or Ventana Wilderness.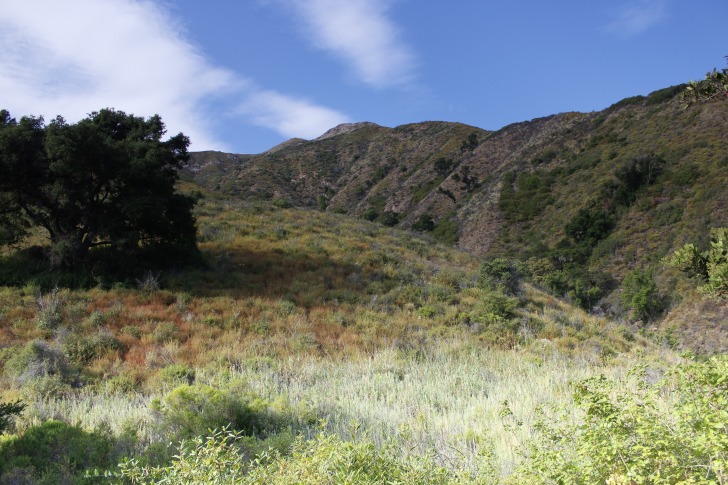 Important Details
Because of a great number of tourists, despite the isolation and challenging landscape, Big Sur gets dirtier every year.
Tourists often leave used toilet paper here and there, urinate too close to the lakes and rivers, and do not bury trash.
No doubt you are different and love nature just like we do.
We understand that it is more and more difficult to find official camping sites in Big Sur because people tend to camp in the areas which are not allowed for camping with their car, van or tent.
The other tourists consider it normal and just park their car close to the highway breaking the rules.
But if you do so, be ready to meet the police officer or the national park officer who will ask you to leave the place despite the time of day.
Tourists recommend being cautious and respectful in Big Sur.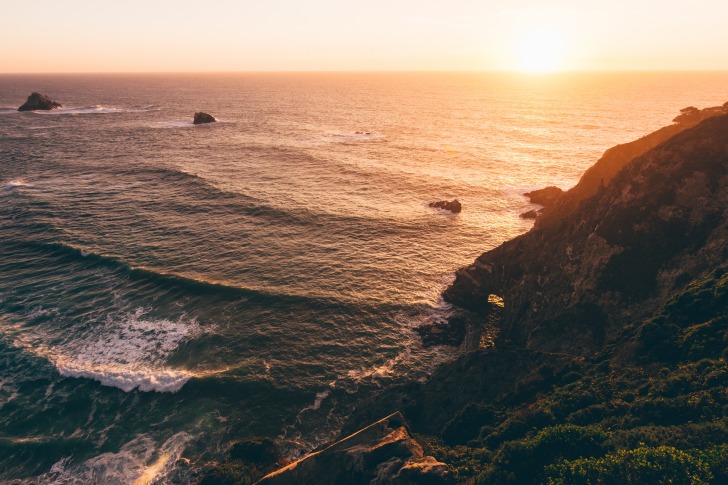 Places For Free Camping
So you can camp far from the highway on the official campgrounds.
The free camping spots that you can reach by car are the following.
1. Nacimiento-Ferguson Road
The most popular place that has unfortunately been prohibited until 19 August 2020.
Please avoid camping along the road or camp at your risk at the distance of more than 300 feet from the road at night, then leave at dusk.
2. Plaskett Ridge Road
The best flat places for camping are at the top of the hill.
You should know that the rugged road to Plaskett Ridge Road is less busy than the others, and you can find more places for camping here.
Great if you have a 4×4 vehicle.
Of course, the other campers will meet you there, so be respectful.
Sure, the main rule for all campers is to leave no traces.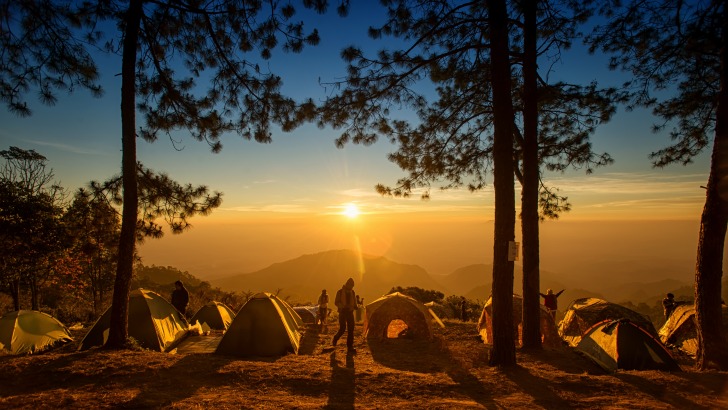 3. Los Burros/Willow Creek Road
As well as two previous campgrounds on Big Sur, Los Burros or Willow Creek Road is a classical free camping site.
Fewer tourists come to camp here because they do not come here by their RV.
This type of vehicle will simply make you turn back to where you started because the road is very curly.
As soon as you get there, you can find lots of good places to pitch a tent.
Go deeper into the bushes and you will find blackberry.
Just stay away from the poisonous oaks which are numerous in this place.
Places For Trekking and Hiking
Do you think that the best way to find a decent campground is by hiking or trekking?
Then the following list of places is for you.
A lot of trails in Big Sur will lead you to nice territories where you can stay overnight or for a longer time.
You can find yourself in a secluded place in the desert or not far from a river where fewer tourists come.
More than 50 trails lead to the campsites many of which are unofficial.
Apparently, the police are not able to check them all, so you can have a peaceful time off.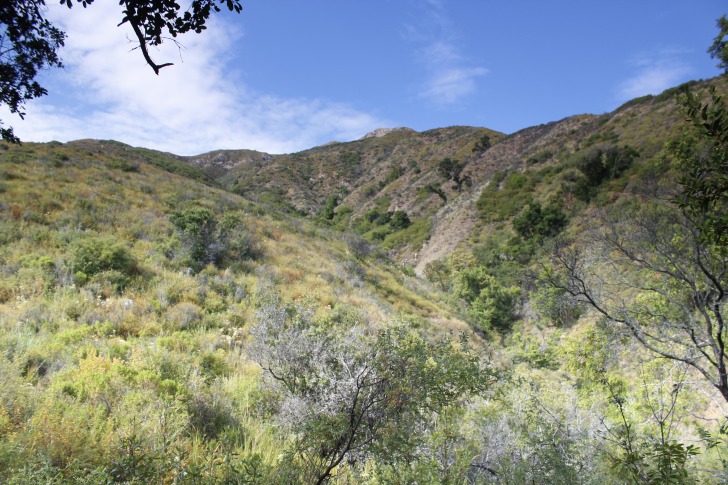 1. North Coast Ridge Trail
Perhaps the driest camping spot will be in the Ventana Wilderness, at Cook Spring Camp.
Mountains and coasts will open before you, and pine trees will surround you.
In fact, you will need to walk 10 miles back and forth.
Tourists who have already been to this place advise you to bring some water with you just in case, considering that you will find a source of water in the camp.
2. Santa Lucia Creek / Last Chance Falls
Santa Lucia Trail is in the Ventana Wilderness.
You can take this trail to get to the Santa Lucia Peak starting from Memorial Park (2000 feet).
The biggest danger in this place is crossing through the fast flow of water.
Be especially careful when camping here.
Of course, the best impression is the Last Chance Falls (2000 feet).
Although this waterfall roars like thunder in the fall, winter and spring, it can dry out in the summer.
Be prepared for it.
If you can't find a place in the Last Chance Falls, check out the Arroyo Seco camp (900 feet).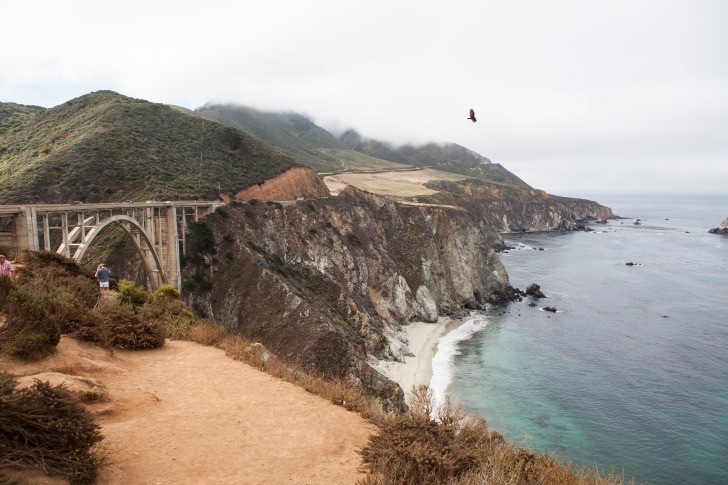 3. Ventana Double Cone Trail / Lone Pine Camp
For those campers who love not only the difficult trails but also the aesthetic side of travel with a backpack, the best choice is a Double Cone Ventana.
You have to start your journey from the Bottcher's Gap south of Carmel, then hit Palo Colorado Rd and drive through the redwoods.
It is not necessary to pass through the gate.
Another good camping spot is Lone Pine Camp.
But there is not much water there, so you need to bring it with you.
4. Sykes Hot Springs
Sykes Hot Springs campground is often closed due to fire damage, so please check the information before you go.
At any other time, Sykes Hot Springs is open for campers.
Hot pools are what makes this place really special and popular among tourists.
One pool can accommodate several adult persons that is why couples choose this place rather often.
Besides hot springs, the trail leading to the campground is very hot too.
You should wake up early in the morning and overcome 10 miles one way that is mostly shadowless.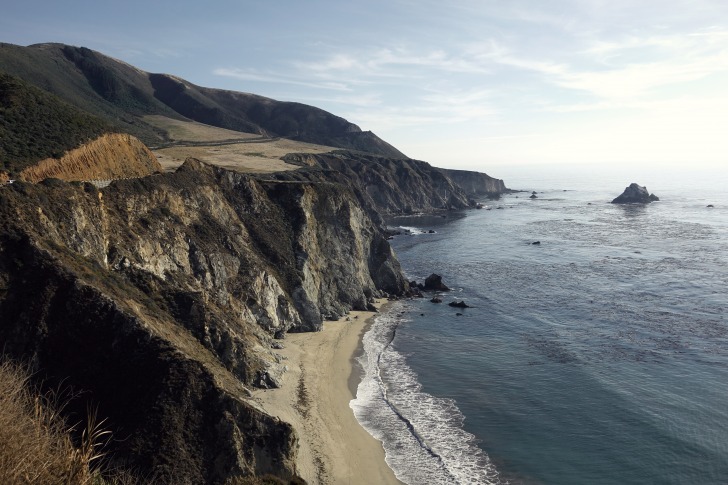 Camping in State Parks
In each of the four Big Sur state parks, there is a magical nature.
You can see waterfalls, coasts, redwoods, and the best camping spots.
These places are official, paid, and crowded with tourists.
You need to take care of your hike in advance in order to choose and book a camping spot.
If you do not have time to do this, then you can get into a mess when you do not find available places.
The idea of state-owned paid campsites is good in the low season.
1. Andrew Molera
This is one of the parks that are often closed for camping and it is relatively undeveloped.
You should check the information about the availability of the park before you go.
Just a few facts about the park are you can choose from 24 campsites first-come-first-serve.
Booking in advance is not available which some consider a good idea while others do not.
You should come early in advance to choose a campsite and make sure there is a place for you.
The hike is easy and short, and the campsites have flush toilets and drinking water.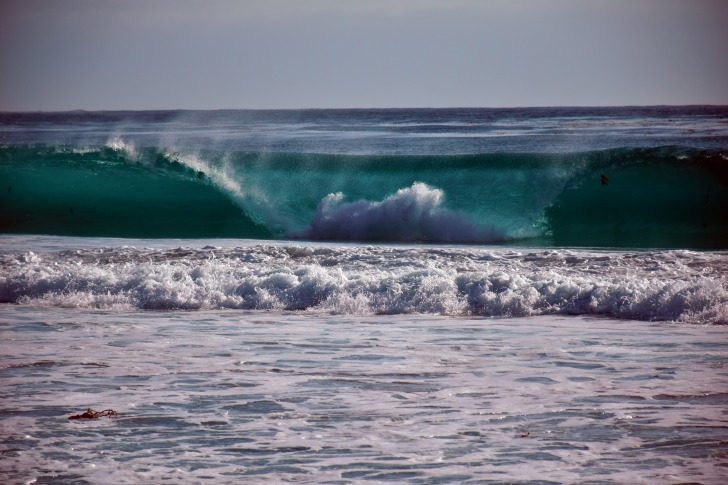 2. Julia Pfeiffer Burns
While some campsites require climbing high into the mountains on sunny winding roads, there are more convenient and scenic options.
In this case, you get a magnificent view of the ocean and green rocks.
Julia Pfeiffer Burns state park campsite is just that.
At the same time, the trouble of such campsites is their great popularity and the possibility of pre-booking.
Moreover, this Big Sur camping site must be booked at least six months before arrival.
Weigh up the pros and cons.
3. Limekiln
A great place for lovers of redwoods and limestone is Limekiln.
Within two miles of Lucia, you will find 24 camping sites.
If you stop here, you will be able to stroll to the 100-foot waterfall and into the magical forests.
Pre-booking is also welcome here.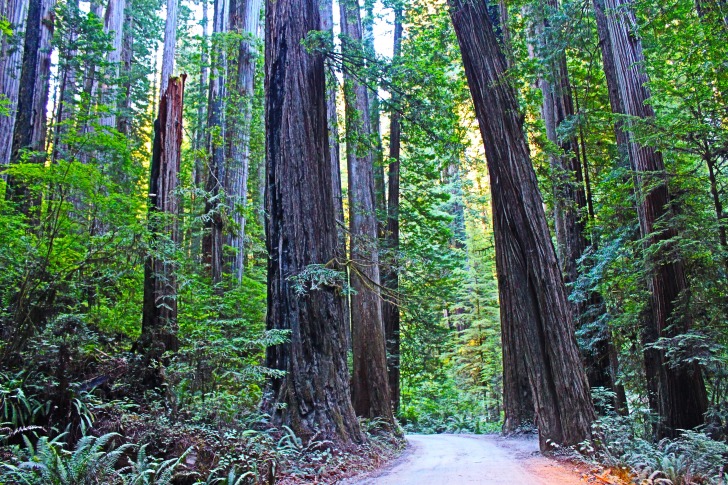 4. Pfieffer Big Sur State Park
On a hot day, there is nothing better than camping near the river.
Would you like to get to a place where you have a view of the ocean and many trails for hiking in the wild?
Although the names are similar, it's not Julia Pfeiffer Park, it's Pfeiffer Big Sur state park.
This is a completely different location, with many more pitches for your tents.
You can choose from 174 venues and book it.
Aside from the fact that the views here are extraordinary, you should still pay attention to the scale of the campsite and imagine the number of people who may be near you during the high season.
5. Kirk Creek Campground
Another place in Big Sur where there is a danger of poison oaks.
The second important thing about this place is the lack of a mobile signal.
That is if you want to forget about all the worries and not receive any messages from civilization during your camping holiday, feel free to go here.
There are so many hiking trails and ocean views here.
Kirk Creek is for the seekers of calm and secluded places.
By the way, there is no electricity either.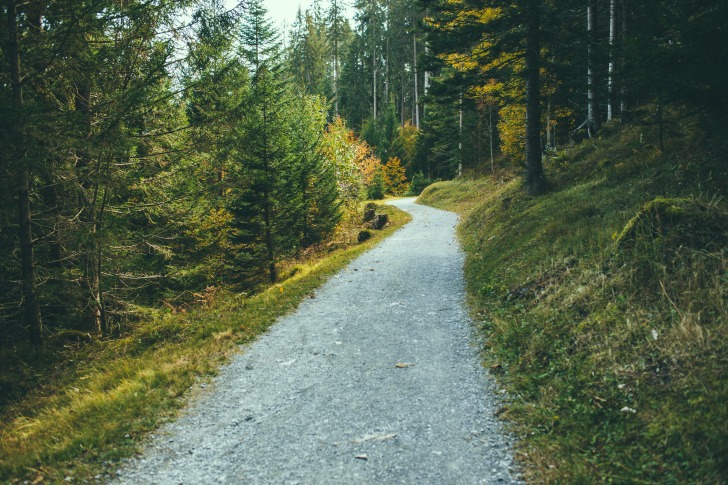 Useful Big Sur Tips
We would like to share tips on what to take with you to Big Sur, when is the best time to go and how to stay safe in the camping.
You are free to skip this information if you have already been to Big Sur.
After the list of things that should be in your backpack, you will learn why travel insurance is a must and what to do if you do not have it.
Also, we will share tips on how to find an alternative to camping if you want to finally charge your cellphone and text your friends.
There is a list of hotels in the area that you can head to in case you get too tired of the surrounding beauty.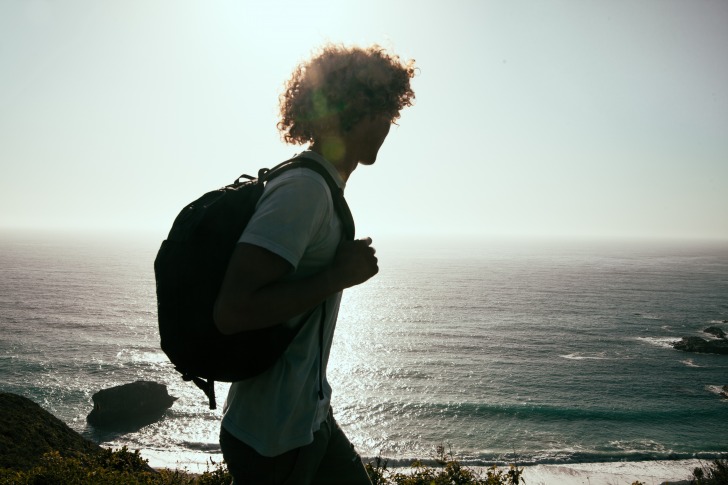 What To Put in Your Backpack?
A water bottle. You will not have to pay for water in case you do not find a drinking water spring. Also, a reusable bottle is eco-friendly.
A towel. A microfibre towel is not heavy, it is compact and dries fast. That is a perfect decision for campers, hostel guests, and those who do yoga.
A torch. The best torch for any traveler is a headtorch. Some models have red light which is invisible to insects. A very useful thing in Big Sur.
A hammock. You can not always use a tent while you can always find a space for a hammock when camping. This thing is light and firm and does not take much space.
Security belt. A regular-looking belt with a hidden pocket where you can hide your cash to prevent securities at the airport from finding it.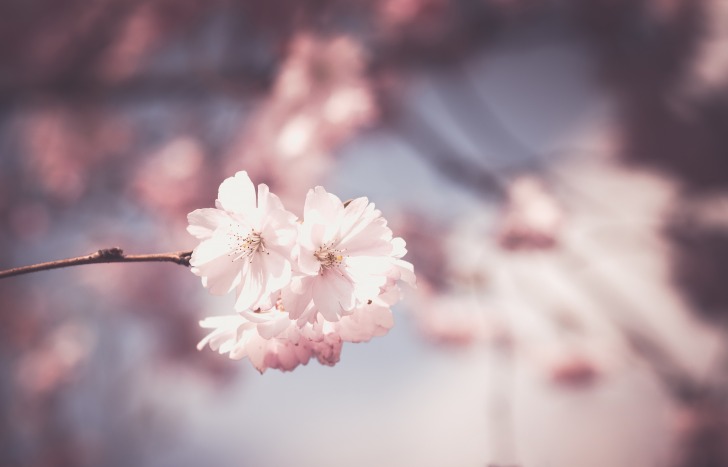 Best Time To Visit
The best time to visit Big Sur is March and April.
At this time of the year, Big Sur is warm and pleasant with fewer people and an opportunity to see the mighty grey whales migrate to the Arctic.
If you choose to go in the summer, be prepared for the heat and take measures to prevent yourself from sunstroke and dehydration.
The summer months are probably worse for visiting Big Sur in terms of huge crowds of tourists and traffic jams.
Although there are lots of people at any season, try coming to Big Sur in winter if meeting other tourists and spending time in traffic jams is an issue for you.
Safety Tips
There are dangers everywhere in the entire world, you know.
Even the less harmful areas can have hidden hazards.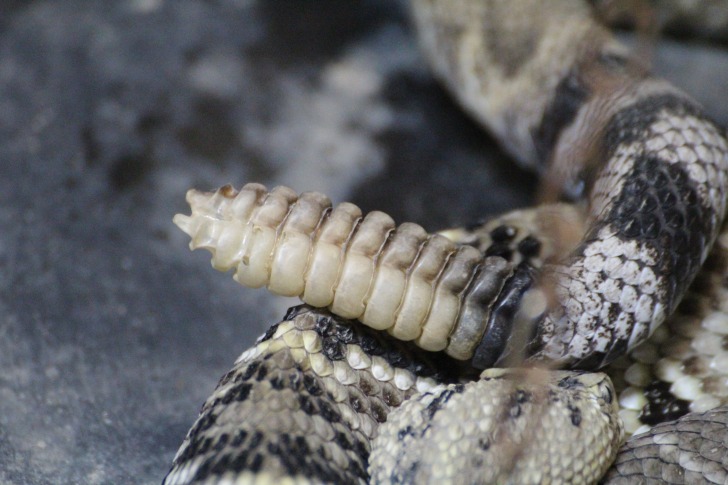 In Big Sur they are:
Wildfires. The thing that you can not stop yourself if it is too late. Be super cautious and make sure that you have completely extinguished the hearth before you leave the campsite. Explore the area and always come with a plan on how to escape the wildfire.
Poisonous plants. In Big Sur, watch out for the poison oak. Never burn it in a campfire. You should know how it looks like, and avoid it in any way. It causes damages that are life-threatening.
Ticks and heavy-bodied rattlesnakes. Always check for these creatures hiding in your boots, tents, and body.
Rental car drivers. Drivers are very inattentive at times. In high season, it can be dangerous to get stuck in a traffic jam on curly roads. Tourist drivers who rent cars to drive to the mountains are especially dangerous because they often lack experience driving in areas like that. You can be pushed out of the road.
Rainy days. We all know that rain brings mud which is a very bad thing in the mountains. Avoid driving when it rains heavily.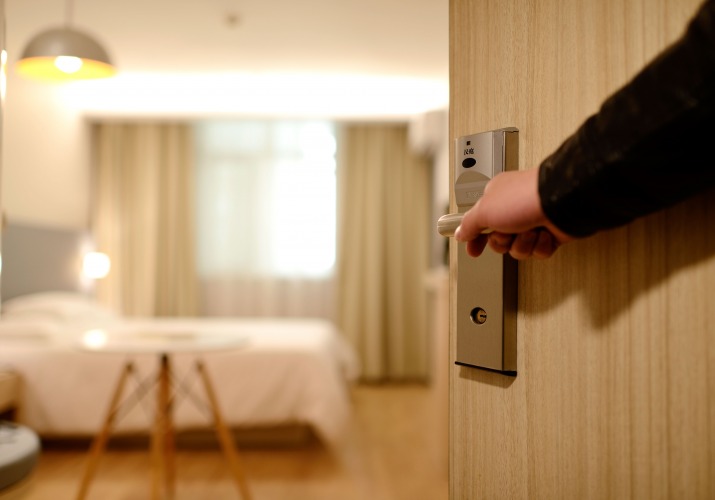 Best Hotels in Big Sur
We offer you to take a break and stay at the hotel when you feel exhausted, need water and shower and electricity.
Also, when it rains heavily you might be looking for a shelter to keep going to your chosen campground in a couple of days.
There are a few hotels in the area that can be of much help in situations like that.
The hotel rooms in Big Sur are rather expensive so you should keep it in mind and have the money just in case.
To name just a few, you can stay in Big Sur Lodge, Ventana Resort, Tree Bones Resort, or reasonably priced Fernwood Resort.
Before You Leave
Save Nature
There are few places in the world where you can reach the ocean view, the mountains and redwood forests by car.
These natural wonders make Big Sur a special place that is very attractive to tourists.
Isn't it great to know that you can make this a better place?
All you need to do is keep your campsite clean for further visitors.
There's one cool principle that thousands of tourists adhere to.
Leave No Trace.
The locals meet tourists with respect and they are waiting for the same respect from every traveler on their land.
Big Sur is not a hidden gem any longer, and there are lots of places that are explored by people.
The mass tourism is the thing that brings irreversible changes to the planet.
It has brought many changes to the landscapes of Big Sur.
There are still many secluded places and untouched natural beauty around.
We can preserve this beauty.
Enjoy every minute of your unforgettable trekking, hiking, and camping in Big Sur.