Greece is one of the most popular destinations among travelers especially when it comes to summer vacations.
The country is famous for its incredible history and culture, tasty food, friendly people, gorgeous beaches and beautiful islands.
In fact, there is a whole bunch of stunning islands that are popular among tourists.
In this article, we've collected some of the greatest Greek islands on the Aegean Sea.
Five Greek Islands You Need To Visit
Santorini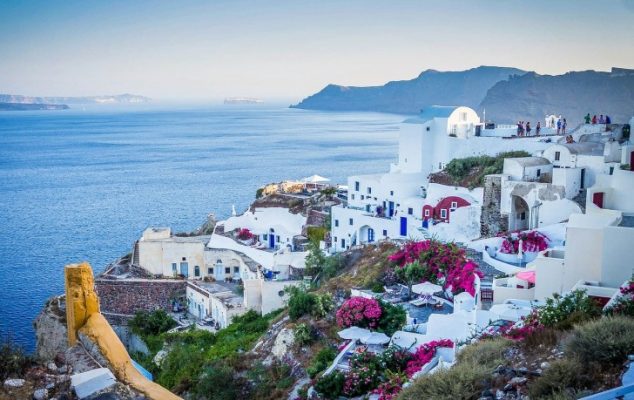 Santorini is for sure one of the most famous Greek islands.
It is known for its absolutely stunning sunsets and incredibly delicious wine.
It is a perfect place for unforgettable Greek summer vocations especially if you are looking for a romantic place for a journey for a couple.
Lots of couples like spending their honeymoon there.
The truth is that this island is magically beautiful and absolutely stunning.
Santorini has absolutely breathtaking views with its blue sea, white traditional houses, small streets, and beautiful nature.
Local people are very friendly and kind so you'll for sure find a couple of new friends there.
The island offers a whole variety of beaches for any taste.
There are popular crowded beaches with music and fun activities and some isolated places where you can relax on your own.
Just make sure to visit the red beach, Kamari and Kambia beach that are the most amazing places on the island.
Santorini is a great place for real foodies as there is a variety of really great and high-quality food.
In Oia, Thira, and Thirostefani, you can find a bunch of rewarded restaurants or just enjoy great street food while strolling through a town.
The island is known for local sherry tomatoes, fava beans, and, of course, wine.
The last one is absolutely amazing and worth trying.
Don't Miss:
Visit Nea Kameni that is the volcano island. Just make sure to wear comfy shoes and a large-brimmed hat.
Take a small tour around the hot springs in Old Kameni and on the island of Thirasia. It is a great place to enjoy a relaxing bath in the hot springs.
Visit Akrotiri archaeological to learn about the life of locals during the 5th millennium BC. It is one of the oldest civilizations we can learn about. The admission fee is 14€ including visits to numerous museums.
Take a wine tour to enjoy one of the best wines in your life.
Mykonos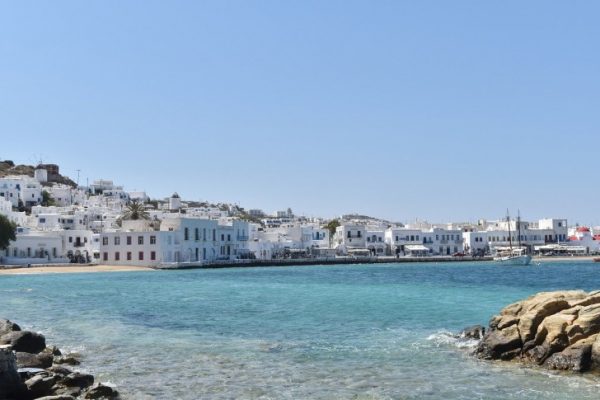 Mykonos is known as one of the most fast-evolving places in the country.
The place changes really fast and there is something new almost every day.
The truth is that the island is a real trendsetter in Greece so there are lots of great things to try.
Mykonos is a perfect place for nightlife seekers.
There is an incredible variety of nightclubs and bars that will for sure impress you.
The fact is that Mykonos is an island that never sleeps.
Speaking of accommodations, Mykonos has one of the best options in Europe including great hotels and luxurious villas.
Also, there is a variety of gorgeous beaches that vibrate from the music of famous DJs.
And, of course, it is a great place to enjoy very tasty Greek dishes.
Don't Miss
Pick some fresh fish for dinner as the taste differs significantly from the vivarium fish.
Go windsurfing on Ftelia beach where you can take lessons for beginners or advance your skills in this sport.
Amorgos
While being one another island from Cyclades complex, Amorgos differs significantly from Santorini and Mykonos.
It is a perfect destination for those who look for a quiet place for vacations.
After the film The Big Blue was filmed there in 1988, the island became well-known and pretty popular.
The most famous spot on the island is Saint Anna beach but just keep in mind that the place is very small and covered with rocks.
However, the sea there is absolutely magnificent and it is a great place for snorkeling.
During your stay there, you can see various colorful fish, rich sea life, and beautiful landscape.
Amorgos is a great place for perfect vacations.
There is a variety of places to eat including local goat dishes and Raki.
The last one is an absolutely incredible sweet dish that will make you go crazy.
If you want to relax on a big beach, you can take a boat to Saint Paul's beach.
It is one another great spot for snorkeling.
If you want to buy some souvenirs or relax in a bar, visit the island's Hora that is filled with little shops where you can buy independent artisan's creations.
It is an incredible place for some unforgettable vacations.
Don't Miss
Try the handmade cheese pies the only bakery at Chora bakes each morning.
Visit one of the most beautiful fairs on August 15th where you can find lots of food and wine and enjoy some dancing.
Crete
Crete is a perfect place to experience real Greek hospitality.
While strolling through the island, be ready to make numerous stops as locals like chatting and treating tourists with some tasty food.
Also, be ready to answer a bunch of questions about yourself and listen to numerous stories as well as some good pieces of advice.
You need to know that Crete is the largest Greek island so it will be really hard to observe the whole island during your visit.
There are some absolutely great cities you need to see so check our list below.
Heraklion
It is a beautiful old town where you can find a bunch of great shops and places to eat. It is a great place for walking so don't forget your camera and your sunscreen.
Natural History Museum of Crete is located there. Take a tour of the new museum and dive into the natural environment of Eastern Europe.
Cretaquarium is a perfect place to witness the magic of the Mediterranean seafloor exposed in 60 tanks with thousands of marine species.
Chania
Chania is one other amazing old town that is known for its cobblestone streets. The town is known for its beautiful local flowers, the lighthouse and restored old houses.
Loukoumades and Malaka are iconic dishes of the town so make sure to try them.
Koukouvagia is a popular tourist site that is located at the top of the hill where the Venizelos graves are located. There are lots of amazing desserts but the best one is the juicy chocolate cake.
Agioi Apostoloi and Agia Marina are great places for a nice cool swim and drinks by the sand.
Rethymnon
This old town is full of marvelous little shops and local brands so you can easily spend your budget there. Just make sure to buy olive oil soap and Cretan herbs.
The taverna Zisis offers the most delicious food you've ever tasted. All the food there is made of products harvested locally. The place itself is managed for one family for many years. Their lamb and their sweet cheese pies with honey is the best dish there.
There are some incredible beaches including the exotic Preveli with the palm trees and the gorgeous Triopetra. A perfect place for a swim in the cold waters overlooking Africa.
Skyros
Skyros is one of the largest islands in the country that offers a whole variety of things for every tourist.
There are some incredible beaches, delicious local food, and really great night clubs and parties.
Speaking of accommodations, Skyros is known for its great hotels, villas, and apartments.
Considering the fact that the sea isn't too deep there, it is a great place for a family trip with kids.
One of the best beaches for relaxing time with kids is Magazia.
There are lots of great beach bars that offer various snacks and drinks.
One other great beach is Peukos that is covered with pine trees that reach the shore.
There you can find a great tavern that offers a variety of great food.
Chora is the main village on the island and has one of the most incredible views on the island.
If you want to experience something thrilling, the lounge cafe Kavos at Linaria in the evening when a ship from Kimi comes.
The ship is met with some music and fireworks that make a breathtaking show.
Don't Miss
Make sure to visit the tavern Mouries in Kalamitsa where your kids can play with the small horses local to Skyros.
Buy some traditional products as souvenirs to get back home. Local fruit sweets are absolutely incredible.